My Art...


I hope it will be apparent to anyone who views my art that there is a definite love affair between the artist and the medium.

I am crazy about color, texture, and absolute uniqueness in each and every piece of jewelry I create.

Combining beautifully unique beads and jewels with my hand-formed glass and metal work, I feel I am able to design and create distinctive wearable art that is sophisticated and timeless, yet hip and fun; ENJOY!

---

End of year shows


Dec 2 & 3, 2016
Studio Home Show
McKinney


---

Nov 18-20, 2016

Art Mart @ the Bath House on Whiterock Lake, Dallas


About Me...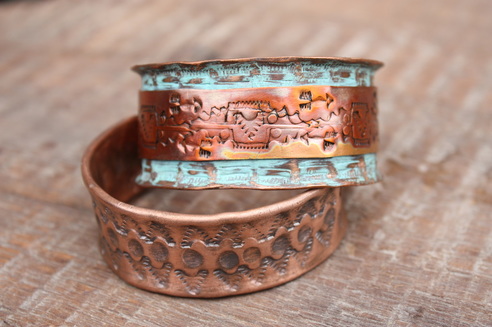 I am Debra Worrell Hernandez, niece of well-known Southwestern artist and sculptor
Bill Worrell.
I began experimenting with glass eight years ago and from those early works, a passion for creating custom glass jewelry flourished. I specialize in dichroic glass. Originally developed by NASA, dichroic glass contains a fine coating of rare metals such as gold, silver, titanium, chromium, aluminum, zirconium, magnesium and silicon. These metals imbue the glass with the ability to reflect and bend light waves. Certain wavelengths of light will either pass through the glass or be reflected, causing the array of colors and shimmering effects so artfully displayed in each of my pieces of art. The reflections and refractions in each piece create dynamic and wearable art. The colors shift with the environment and the viewing angle-generating a beautiful visual that is constantly changing!
Dichroic glass is virtually impossible to recreate, due to the variations in the firing. Therefore, my fine art jewelry pieces are all one-of-a-kind, capturing the energy and warmth of this glass and the incredible vibrancy of the artist.
Please feel free to contact me or any of my gallery affiliations if you have any questions or are wanting a custom piece of jewelry.
artist@dhoriginals.com
---
More Info.

*Private Showings are always available by appointment*

*Interested in hosting a show?

Contact me for information*